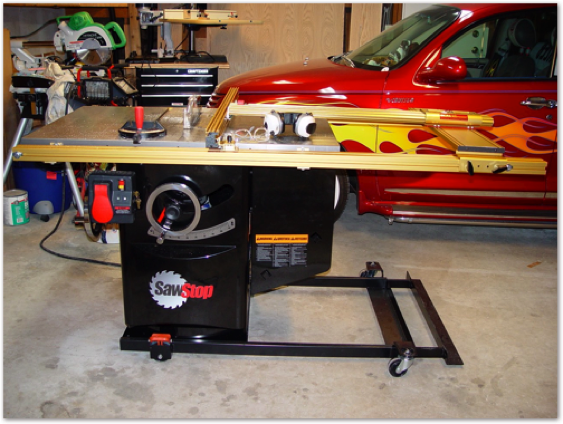 Due to the support of my wife, Pam, I have been able to set up shop with some excellent tools. While they are not what some would call the "best" they are serving me well in the shop. Would I like to add more? Sure, but that will happen over time.
For many years I used a Craftsman table saw that I bought in 1976. As I approached retirement I decided that I wanted to do more woodworking but the table saw I had was difficult to use. After learning about the SawStop I showed Pam the online videos and she told me to buy one. I must say that I'm thrilled with the saw. While I feel safer using it, the SawStop makes me even more aware of safety. It's an amazing saw.
I got along making things for many years without a jointer. Today I'm not sure how I did it and why. A jointer is a necessary tool in a woodworking shop. After a lot of research I settled on the Grizzly G0490 8 inch jointer. Since this is my first jointer I can't comment on how it compares to others but I'm happy with it. I'm very glad that I didn't settle for a 6 inch model and that I bought one with wheels.
After buying the jointer I realized that a planer was needed to complete my surfacing of boards and getting my stock to the needed thickness. In the past I just used boards in the thicknesses that were available off the shelf. The DeWalt 735 seemed to be very popular with woodworkers and Woodcraft had some kind of special deal at the time so I bought one through them. I have yet to be disappointed. The DeWalt stand was free with the purchase of the plainer. It's not shown in this photo.
The year before I retired I received several gift cards for Sears on Christmas Eve. Sears happened to have their 14" band saw on a sale that ended that day. The price was the lowest I'd ever seen on this band saw. Pam and I drove over to the closest Sears store to get the saw. Of course the store we went to didn't have one in stock. We jumped in the van and drove to the next closest Sears store before they closed. I've found this band saw to be an excellent tool.
The only downside I have come across from buying a major Craftsman tool is repair. Soon after my extended warranty expired the saw stopped running. At the time I had no idea what happened. After looking online I discovered that it would cost almost what I paid for the saw to replace the motor. Finally I broke down and called in a repairman for a $100 service call. He quickly discovered that the "run capacitor" attached to the motor had failed. His only option was to replace the whole motor. So much for Sears repair and $100 wasted. After a very long, exhausting online search I finally found an equivalent capacitor for less than $4.00. I ordered one. After it came I made some slight modifications to the box it needed to go in on top of the band saw motor and installed it. Since then the saw has worked perfectly. I've even done some resawing with a Wood Slicer blade from Highland Woodworking. It's a fantastic blade. My custom PT Cruiser is in the background in this photo.
Sometime in the future I'd love to add a second band saw. I'd like one with a bigger resaw capacity. With two band saws I could keep the Craftsman set up with a smaller blade for curves and the bigger one set up for resawing.
I purchased a 12" Delta bench top drill press. It's a handy tool, but I'd much rather have a drill press with more quill travel. I've found this Delta drill press to be my worst tool purchase to date. It came with a laser marking system that's an absolute joke and it's very difficult to adjust the table height. That, however, may be partly due to the Rockler table that I added to it. While it might be part of my problem I find that the Rockler table and fence are very valuable for my drilling.
After buying the drill press I realized that it would not be very useful as a hollow chisel mortiser as I had hoped. Steel City had just introduced their mortiser so I arranged to buy one at a local woodworking show at a special price.
One day Rockler was having a fantastic deal on this Jet Dust Collection unit. I was able to buy it for less than half price after a Jet rebate. While I'd love to have a much bigger cyclone style DC this one is doing a good job for me. It's certainly much better than my ShopVac.
Most of the time it is hooked up to my table saw. Since my planer and jointer are right next to the saw switching the dust collector between these machines is quick and easy. My future plans include a manifold with blast gates so that I can keep all three tools attached to the dust collector.
Most of the pictures below were taken in my garage before we moved to our present home and my new shop. Some day, after my current shop is more orderly and cleaned up, I'll update all the pictures. It's getting close to being ready for photos.
Rockler had several sales and coupons that allowed me to save a considerable amount of money on all the components that I needed to set up a full size router table. I made a shelf for the base and plan to build a cabinet with drawers to fit into the base. It's been designed and I'm waiting for some shop time, money and materials to build it. This router table is a big step up from the Craftsman table top one I have (not pictured).
In addition to the great Rockler sales I was able to get an Incra fence for the router table. Incra was discontinuing their Ultra Lite Jig Woodworking System and had them available at a considerable savings. Thanks to the wonderful customer service at Incra I was able to get them to substitute a fence that would work with the Wonder Fence that I had already bought for my table saw fence.
This website was created and is maintained by Don Bullock.
He can be reached at basithd@yahoo.com
All material on this website is copyright by Donald W. Bullock
All rights are reserved
I'm sure that some of you have observed that I'm not partial to any specific brand of tools. In some ways my shop seems to be a hodgepodge of brands and colors. While I would love to have a shop of matching gold, gray, green or blue machines I've concentrated more on getting the best tool I could afford at the time to do a particular job. Most have been acquired through special sales or deals but just about all have been bought new. I've often jokingly said that my woodworking shop is a rainbow of colors. While this may not make for a beautiful, uniform shop it works for me.
Yes, I do have some other power tools plus some handtools. In fact part of my reorganization includes making my handtools more accessable. Someday after I reorganize my shop more pictures will be posted. These, however, are the main tools in my shop.
As a teaser I've included a photo below of the windows and hand tool storage in my renovated shop. There is still a lot to do before I can post more pictures and do a shop tour video but they will be coming soon.
One day I was reading posts on the Sawmill Creek Woodworking Forum and someone announced a great deal on a compound sliding miter saw on Amazon. I don't remember all the details but as soon as I showed Pam the information she said to go for it. Then I needed a stand for it. Right after the saw arrived Home Depot advertised their Riobe miter saw stand at less than half price. Pam and I rushed over to get one as soon as I saw the ad. Both have served me very well.
Before we moved into our new house I tore out all the carpeting in the main living areas of the house to install laminate flooring. The miter saw was a valuable tool for the job. I use it often to break down long boards for projects.
NOTE: At the present time my workshop/garage is being totally cleaned and reorganized. This is a long overdue project that I've decided to get done as soon as possible. At this point I'm planning to be back up and running by late spring of 2018. Until then most, if not all, my furniture and other fine woodworking projects are on hold.
I attached steel extensions to the Rockler base. On top of that I placed two 2x6 boards and scraps of laminate flooring which made the extension exactly the same height as the table top. To attach the fence I used a scrap of mahogany that I've had for over 50 years. It was a shelf on the headboard of my bed when I was in high school. Part of my shop reorganization plans include dust collection underneath the router and making a set of drawers for bits and equipment in the Rockler stand.
Back when I bought my SawStop the fence was optional. Because I'd had such an issue with the accuracy of the fence in my Craftsman table saw I decided to get what I considered the best fence available at the time. After extensive research I chose to buy an Incra fence but the fence section on their standard model wasn't long enough for the large SawStop table. I contacted Incra and they made a special, longer, fence just for me. Their customer service is excellent.
This mortiser has worked very well and the chisels that came with it are good quality. I did have to replace the piston that keeps the head from falling. The Steel City customer service handled the issue quickly but since then the the company has changed hands several times. According to their website, "Parts are now available for purchase from Canada." Hopefully if this happens again I can still get the part replaced.
After I had both machines I decided that I needed something to place them on. The Craftsman tool chest on wheels has worked out great for this purpose. The drawers hold all my drill bits, mortiser chisels, corded electric drill and a lot of other drill related items. I created the wood top out of some scrap oak plywood. I do plan to add a larger drill press with longer quill travel eventually.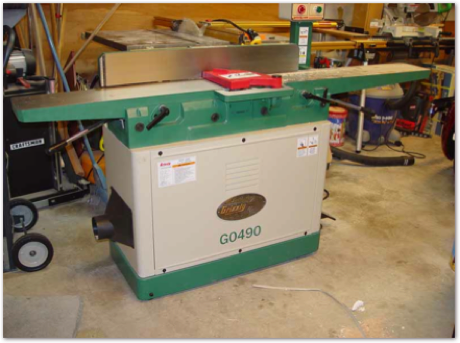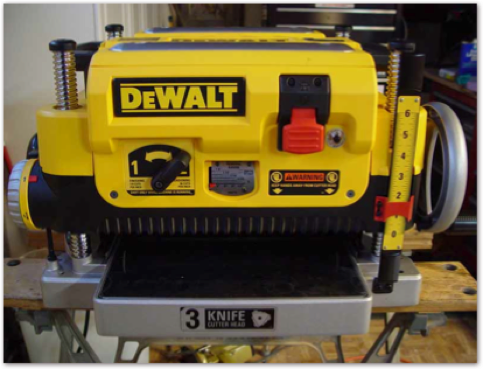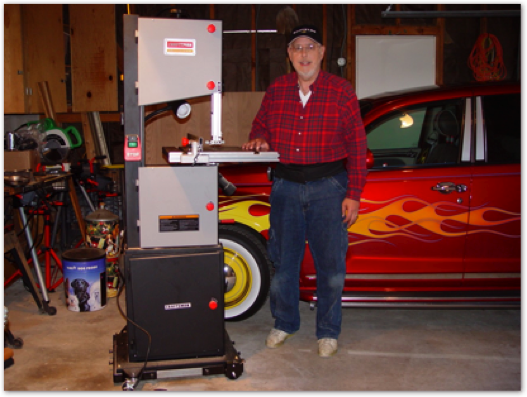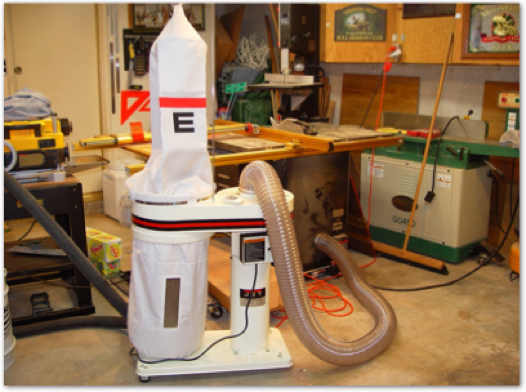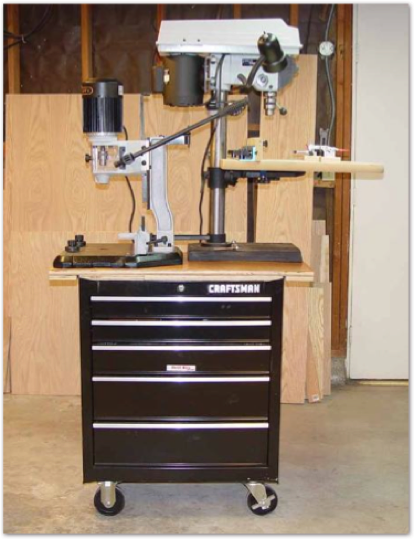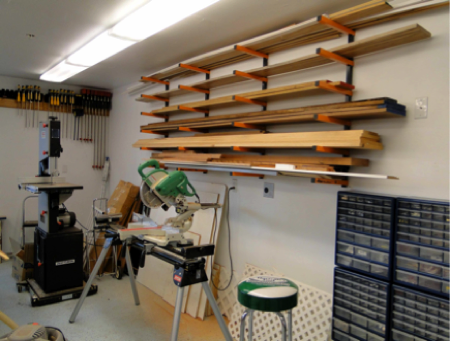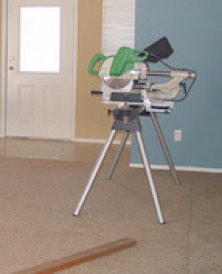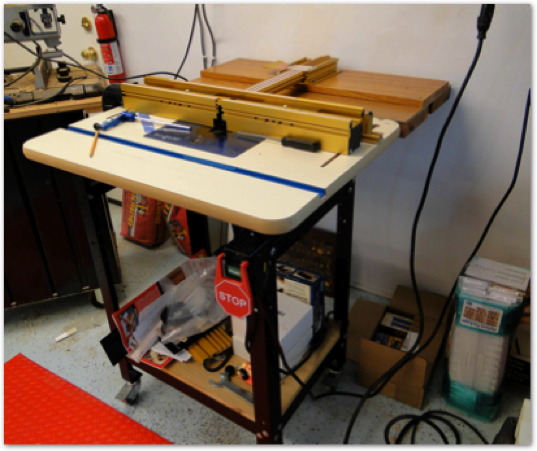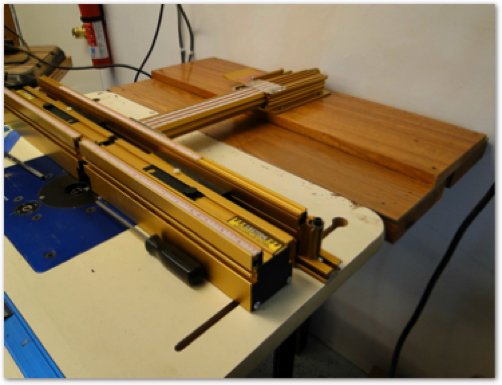 More Tools to be
Posted Soon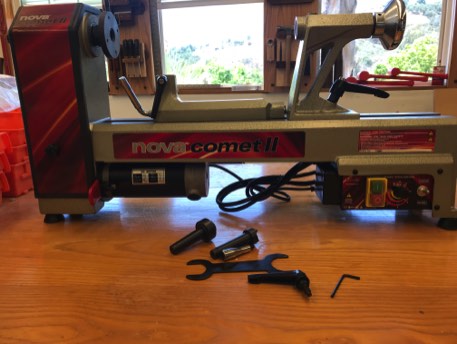 My newest machine is a Nova Comet II midi lathe. This lathe came as a special package with a chuck and some mini turning tools. Right now I don't even have something other than my assembly table to put it on. Many years ago I had a Shopsmith that I used as a lathe so I'm excited about being able to do some more turning again.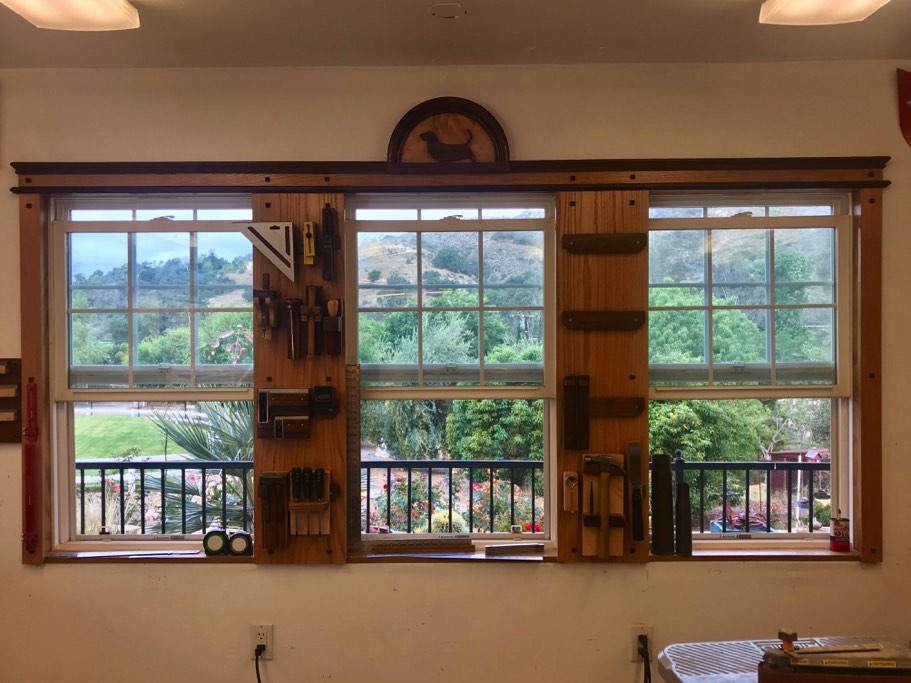 Due to cost I bought the standard jointer with bladed. Eventually, once the blades need to be sharpened or replaced I'll convert it to a helical head but for now it's doing great with the blades.
Perhaps some day I'll convert it to a helical head but for now it's doing great with the blades. I'm still on my original set and have a new set when needed.