Pam and I have put a lot into our vehicles especially our customized PT Cruiser. We needed a space to store at least two of our three vehicles inside. While it would have been great to have a spot for all three that just wasn't possible and still have room for a workshop.

In setting aside half of the building for a garage I also designed the building with space on the end and back wall for storage plus a mechanics workbench and large tool chest. Pam had bought these for me when we rearranged the workshop in our Simi Valley garage. She understood the importance of being able to organize my tools and finds the tool box to be especially handy when she needs a tool too. More on those on another web page in the future.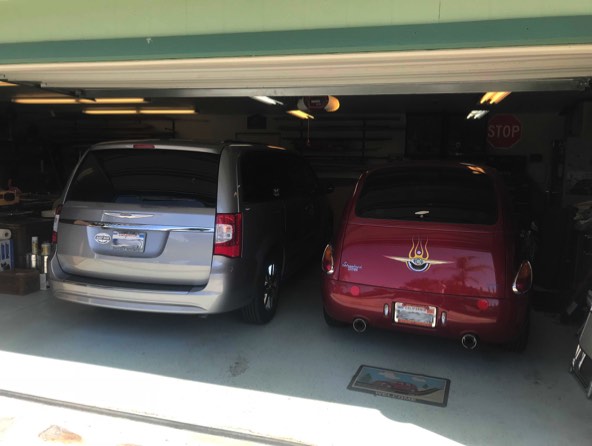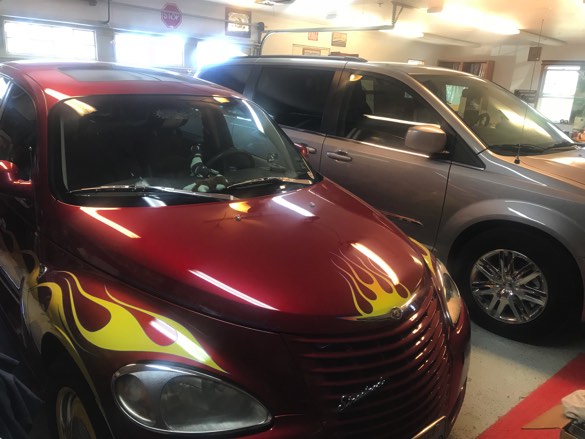 Both the PT Cruiser and the Chrysler Town & Country van fit easily in the garage half. This was a requirement for our new home. The van is used almost daily and is the vehicle we need to haul all our dog show equipment along with the dogs. I also use the van to haul lumber. The space in the back can take two full sheets of 3/4" X 4' X 8' plywood and I can almost fit in a 12' board and still be able to close the back. Our customized PT Cruiser is just a fun car for drives along the coast or in the nearby mountains and going out to dinner. With both vehicles in the garage half there is still room to walk on the sides of both vehicles as well as space to walk in the front and rear. We can pull the van in far enough to open the rear hatch and still have space in front of it to store sheet goods and have a space to walk.