After we had the professionals make the door into a Dutch door and install it I added some Craftsman style molding around the door opening and added similar molding to the adjacent windows (not in this picture).
I plan to add some pictures of the windows.
Through the Internet I found a guy fairly nearby that sold custom stained glass panels and other items. With his input I designed some simple stained glass inserts for the vent openings in an Arts and Crafts style. The one for the master bedroom was pretty large compared to all the others which were a uniform size. After the panels were made by the guy's stained glass artist I installed them in the openings that were left after I removed the grills.
Later on I went back and redid the molding around the doors in an Arts & Crafts style using poplar to incorporate the stained glass panels. This made them look like transom windows. I've still need to go back and do similar molding inside each of the four bedrooms. It just takes time, materials and money.
This "fix" was so ugly that I didn't take any pictures of it. The few photos I do have were because it was in the background of a picture of the dogs.
After a long delay and with the assistance of two of the girls who bent the metal gate when they decided that they had to both go through the narrow gate at the same time I started constructing a new gate for the opening. Before it's completion two other girls wiped out the whole gate while trying to run through it at full speed. Fortunately the girls were fine but the whole gate structure broke in two pieces. That hastened my project quite a bit.
The front door of our present home was rather plain as can be seen below. It was an average "builder grade" door. While visiting the San Diego County Fair we met a lady who put custom stained glass in doors. She offered the whole package deal, glass and door. After talking with her we decided to commission a new front door for the house. We decided on the style of door, one used often in Arts and Crafts homes, and a photo of one of our dogs to be used for the stained glass. After the door was made we had a contractor and his assistant install the door. I ended up making a piece to go in the door jam where the lock mechanism would lock the door. While our contractor and his carpenter were very experienced they couldn't figure out how to make the piece. I worked on it in my shop while they installed the door.
When we bought our home it had a very unusual feature that was extremely ugly. Above each of the bedroom doors in the house were openings covered with grates that were supposed to be HVAC air return vents. Fixing this was one of my first projects after we moved in.
We wanted a way to block off the family room from the rest of the house. By doing so we could separate the dogs if needed and keep them out of the rest of the house and away from the front door when necessary.
Opening Between Kitchen Area & the Family Room
On one side there was a 36 inch wide doorway in which I installed a nice wood baby gate that I found online. But, on the other end of the kitchen area, shown above, the opening was almost six feet wide. The only baby gate I could find to fit that spot was one made out of metal that had to be wedged into the opening. While the it did include a gate, the gate was only about 24 inches wide.
What I came up with was a bookshelf that closed off part of the opening and a 36 inch wide sliding gate to close off the rest. They are both made from red oak with black walnut accents.
To make this project I came up with some very unique ideas. I couldn't find any wheels small enough until I discovered wheels that are used on old steamer trunks. They ended up to be perfect for the job. My research on sliding mechanisms yielded nothing that I thought would work other than a metal extended slide that was over $300. Fortunately I had recently been to the Rockler looking for drawer slides to replace one in the kitchen. They had the dovetailed wooden glides that are used for drawers. I decided to buy two sets of these. They are working great. Pam was concerned about the brass wheels on the laminate flooring so I bought a strip of aluminum that I screwed to the floor for the wheels to roll on.
I plan to add a video on this project to my YouTube channel.
Master bedroom doorway off of front entry.
The other bedroom doorways have smaller openings.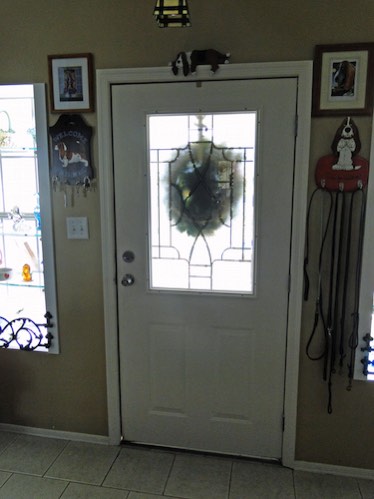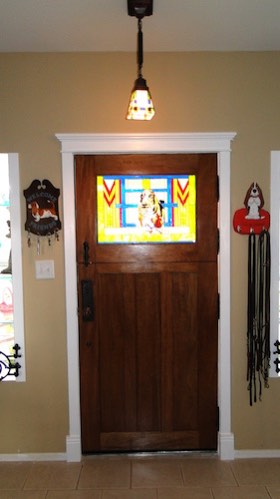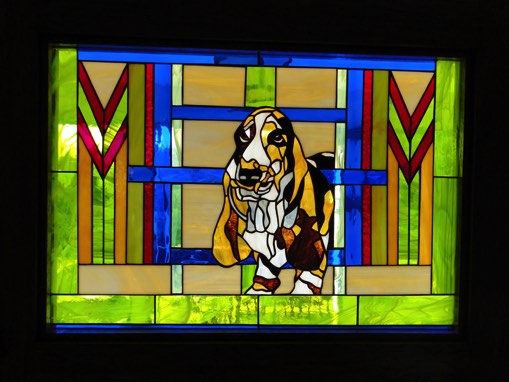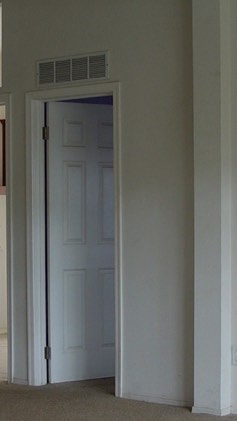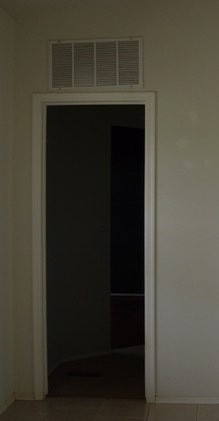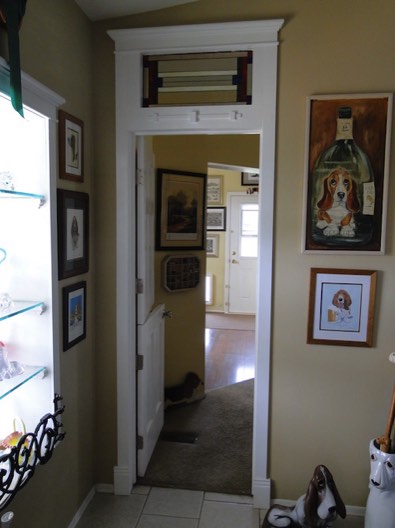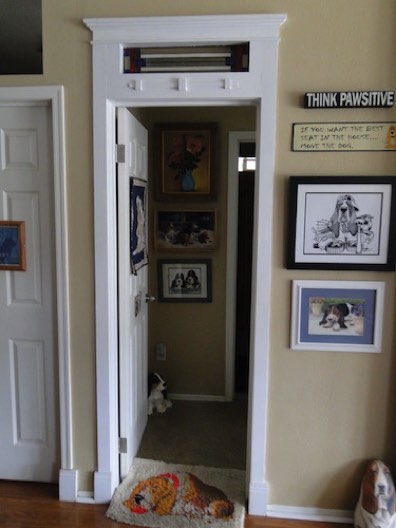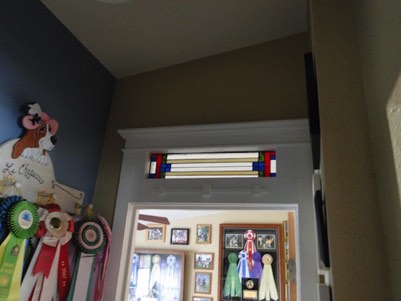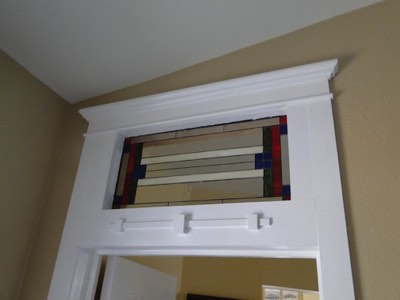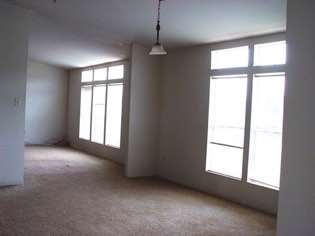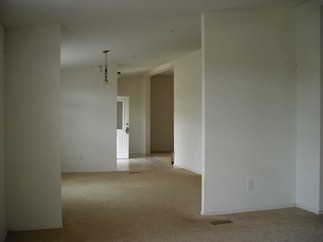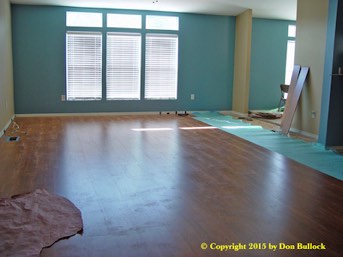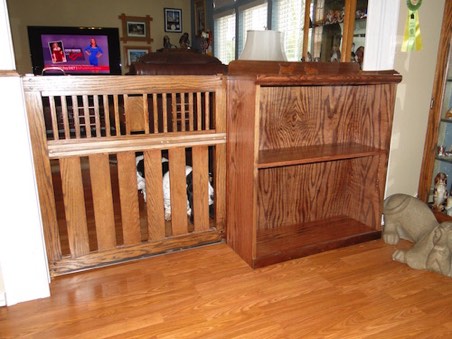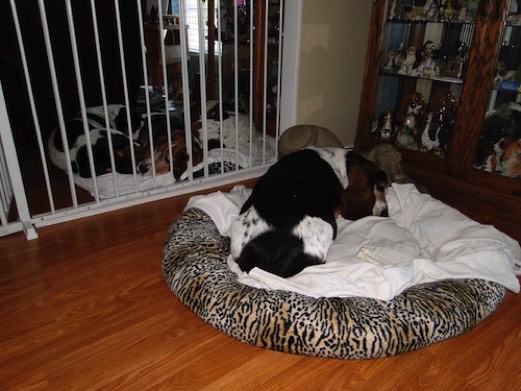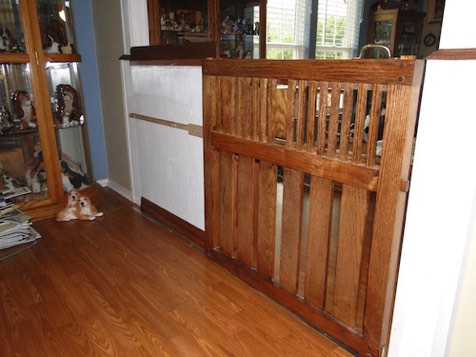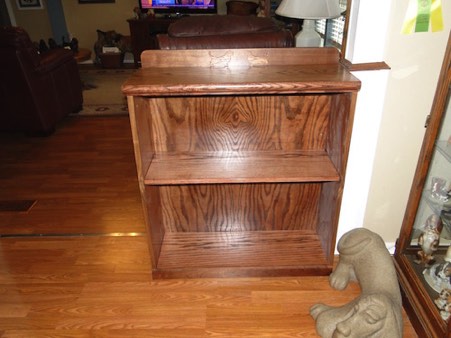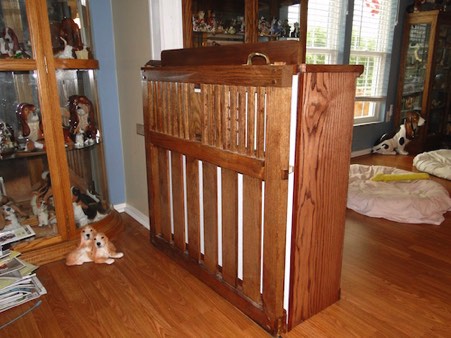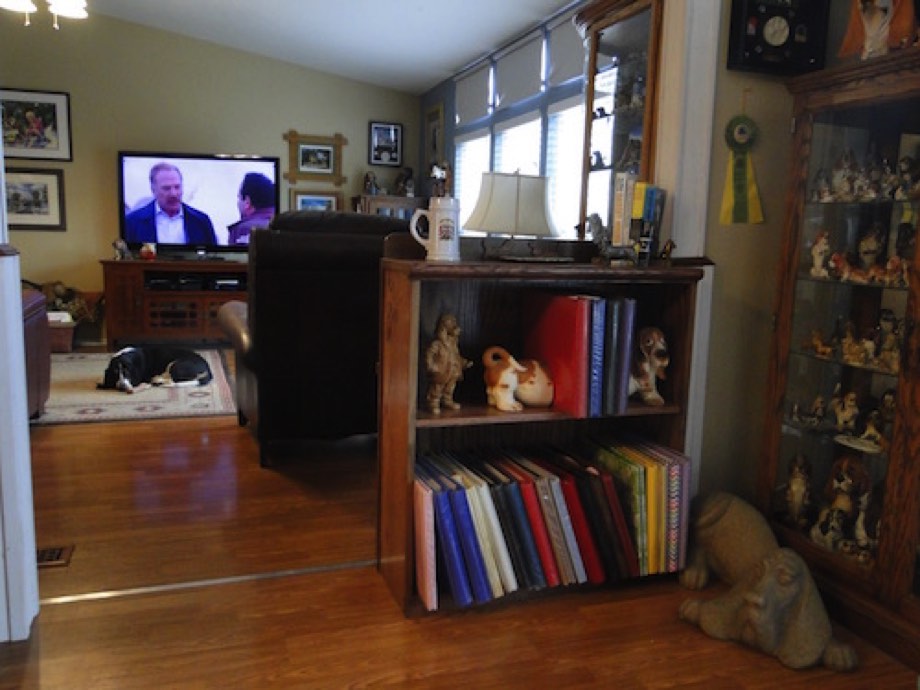 I have been working on some additional carpentry projects both inside and outside the house. While some are of no special interest to woodworkers there are a few that are rather special. Right now I just haven't had the chance to actually take any photos of the work. I'll have to correct that situation and post some here.
The bookshelf has now become the place for the albums of our AKC Champions and some of our collection of basset hound items. Nadia is checking out the new addition from a safe distance.
This website was created and is maintained by Don Bullock.
He can be reached at basithd@yahoo.com
All material on this website is copyright by Donald W. Bullock
All rights are reserved
Those of you who own homes will most likely agree that home improvement projects are never ending or finished. Over time things seem to need to be fixed or we decide that we need to change or add something. While most home improvement projects have nothing to do with working with wood some do. On this page I plan to show the ones that come close to being more fine woodworking related.
A photo of the stained glass from inside.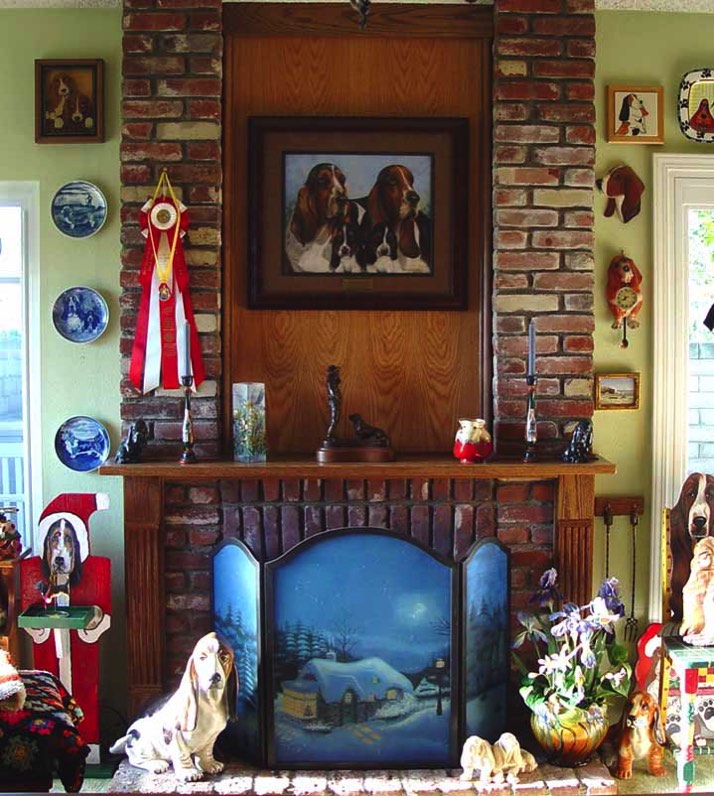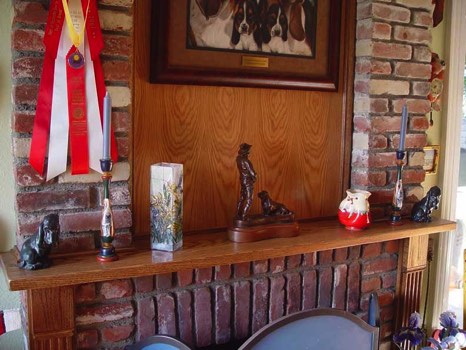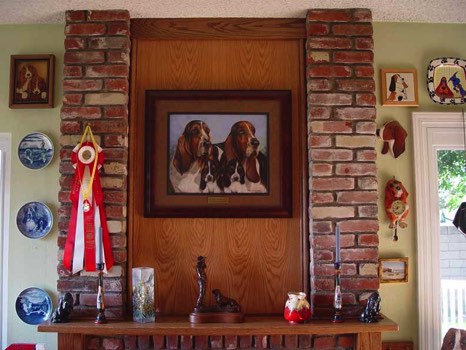 Before we even decided that we were going to move out of our home in Simi Valley, California I decided that the mantle in our living room was pretty ugly. It was one of the first things that people saw as they entered our home. A change was long overdue.
What is shown below is what I came up with. The only thing that I decided to keep was the brickwork. Everything else is new. I used white oak for the panneling and stained red oak for everything else. It was difficult to leave this behind but I'm sure that it helped to sell our house quickly.