While the first garage in our Northridge, California house was a dedicated workshop we decided that vehicles needed to go in the garage when we moved to Simi Valley. That was decided even before we moved.
So, as I got ready to retiring from teaching and wanted to get back into woodworking our Simi Valley garage started turning into shop space. I used half for my custom PT Cruiser and the other half to start my woodworking shop. It was tight but a start. Pam was very supportive of the new arrangement because she knew it was temporary.
When we decided to move Pam and I discussed the need for a workshop space at our new home. We agreed that we needed garage space as well. Since our goal was to find a home on at least one acre of land we thought there would be room for both. Fortunately we were right. Although there was neither a garage nor workshop on the property we bought there was a space ready for them.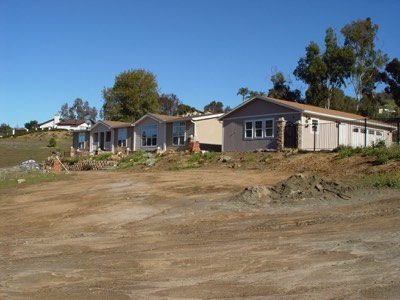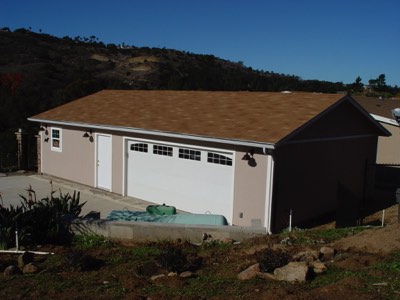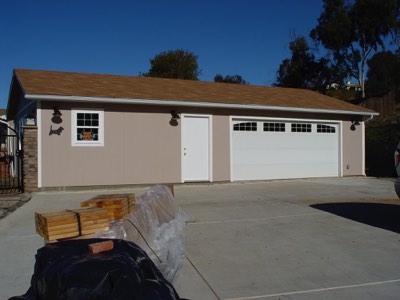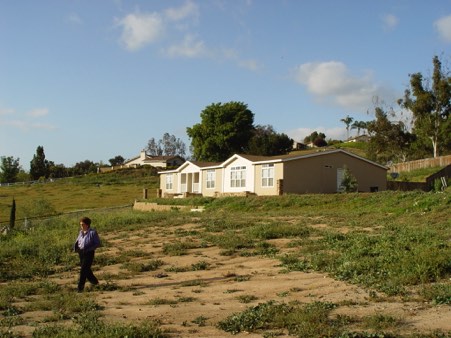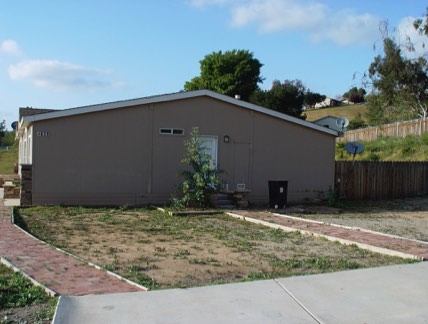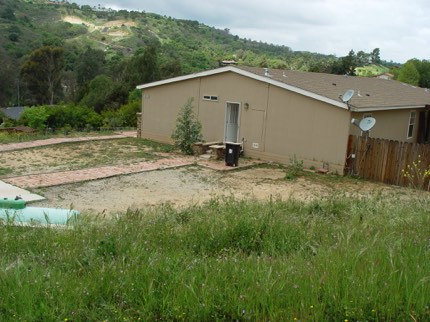 To the left is the view we got of the house and property as we drove up the driveway. Later as, shown in the photo, Pam wandered around the front yard to see what we were getting ourselves into. As can be clearly seen there was a lot to do to make this place livable. I must admit that she was very skeptical about buying this place. The task seemed to be extremely daunting.
As can be seen in the photos on the right there was a flat graded space that could be used for a building at the end of the house. It looked as if the prior owner had planned to build a garage but didn't. Since the house was repossessed by the bank we had no contact with the former owner to find out what he had planned. The neighbors weren't able to tell us much.
I checked into the building code and discovered that an unattached garage was the better way to go. I'll not go into the details but I discovered that by code the building had to be no closer than ten feet from the house or propane tank (that bright green thing). After doing some careful measuring I discovered that the building could be 24 feet deep and the width of the house which was 40 feet with an extra foot to spare on both sides in case we got an inspector that didn't like our measurements.
There is no need to cover the construction here as that can be found elsewhere on the website. We contracted with Tuff Shed to build a building from my design. Of course to pull a building permit they had to add a lot of details to what I did but they followed my design with their plans.
As the photo on the left shows the resulting building fit very well and blended almost flawlessly with the existing house. We were very pleased with the final product.
The workshop was designed for the left side so that I could have a nice view through the windows and the right half of the building was designed to be the garage.
Since this photo was taken we have done a lot of landscaping and painting. It's amazing that we were able to take my visions and dreams and make them a reality. Unfortunately it's taking quite a bit of time to finally finish the inside.
To see how the building was constructed check our our YouTube video. While the video states is's about my Woodworking Shop build it's the construction of the whole building. Believe me, I wouldn't have a workshop without the garage.

We could see some potential. Pam had a lot more difficulty than I did but she had faith in my vision so we bought the place. Since it was a repossessed property we were able to negotiate a good price with the bank.
As soon as possible I'll add a shop/garage tour of the workshop and garage. I have a way to go before that will be possible but I'm making good progress.
For now the garage half houses our custom PT Cruiser, our Chrysler van and a lot of other stuff including most of our Christmas decorations.