Basset Hound Club Trophies
Pam and I are very active with showing our basset hounds in AKC dog shows. Because of that I have been involved over the years in making some trophies for the basset hound shows that the clubs we belong to hold each year. It's a fun activity and the trophies help me hone some of the skills I need for other projects. I have to admit that compared to commercially available trophy bases I went overboard on these. Examples of the trophies I've made are shown below.
BHCSC Best in Sweepstakes
"Woebgon Challenge Cup"
I made this trophy for the Basset Hound Club of Southern California for their shows for Best in Sweepstakes award.
This was my first venture back into woodworking after I bought the SawStop and an inexpensive Craftsman tabletop router and router table. The base of this trophy was made from cherry offcuts and was my first time working with cherry. I had never used a router mounted in a table for decorative edges before either. The corners are mitered and doweled with walnut Miller dowels as an accent and for strength. The loving cup is silver plate and the basset hound figurine was recycled from a trophy from the 1970s.
Challenge trophies like this get passed around until the same person wins it three times and retires it. Pam and I were fortunate enough to retire this trophy in 2014 when our boy, Tradewinds Caicos, was Best in Sweepstakes. It now resides in our dining room.
BHCSC High in Trial for Obedience
Dedicated to Ralph Scarrow
This trophy was made for the Basset Hound Club of Southern California. It was donated to the club to honor one of our members, Ralph Scarrow, who was very instrumental in keeping obedience competition going at our shows. Our club has been known, even internationally, for many years for it's obedience competitions.
The base was made from Zebrawood and Black Walnut. A basset hound figurine is from Danbury Mint and was donated for the trophy by our friend, Maria Bivens. The pictures above were taken in my shop before the finish was applied to the trophy and the plaques were added.
While the trophy was dedicated to Ralph Scarrow before his death for his work in keeping obedience events as part of BHCSC Specialty Shows it was retired by Marianne Lovejoy and re-donated by her as a memorial trophy to honor Ralph. We'd like to express our special thanks to her for this generous gesture. It keeps the trophy in circulation which allows others to enjoy it.
Note: The basset hound figurine can be protected for travel and storage by turning the top upside down so that the it disappears into the base (right photo above).
Photos of the finished trophy.
GSDBHC Best of Opposite Sex to Best of Breed
"The Cup of Joy"
Dedicated to "Joy" because she was the first to win BOS at the Sunday GSDBHC Specialty Show
When the Greater San Diego Basset Hound Cub expanded to two Specialty Shows our Joy had the honor of being awarded the first Best of Opposite Sex to Best of Breed for the new show. As a result of this honor we donated a trophy, "The Cup of Joy", to their club.
The trophy is a silver plate loving cup on a hand crafted cherry wood base. It is still being used by the club.
BHCSC Best of Opposite Sex to Best of Breed
After retiring the previous trophy in 2013 we donated this one in 2014
This trophy was donated to the Basset Hound Club of Southern California after we retired the previous trophy. The base this trophy is made from Curly Maple and Black Walnut dowels for accent. The basset hound bitch is a cold cast bronze figurine made by Dannyquest. Pam and I donated this trophy in honor of our three girls who retired the previous trophy.
2005 - GCh. Ch. Woebgon's Kickapoo Joy Juice, ROM
2007 - Ch. Woebgon's Snow White from the Bred by Exhibitor Class
2013 - GCh. Ch. Woebgon's Dodge City Sarsaparilla
Note: The basset hound figurine can be protected for travel and storage by turning the top upside down so that it disappears into the base (center photo). The handle is made from walnut.
This website was created and is maintained by Don Bullock.
He can be reached at basithd@yahoo.com
All material on this website is copyright by Donald W. Bullock
All rights are reserved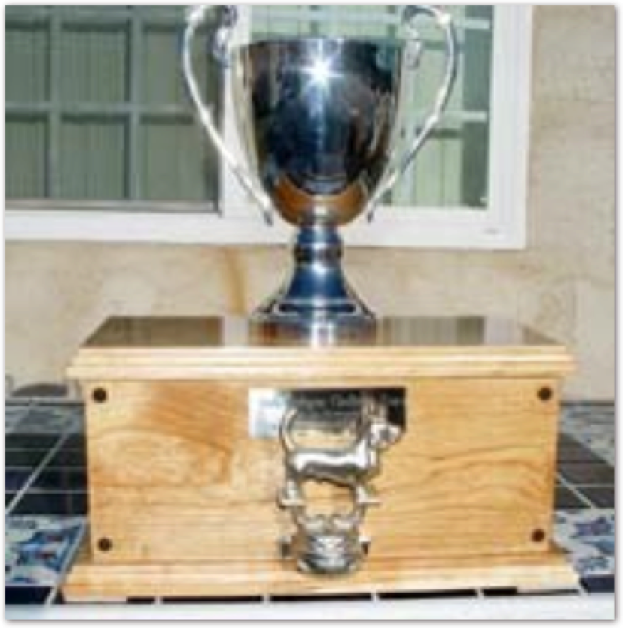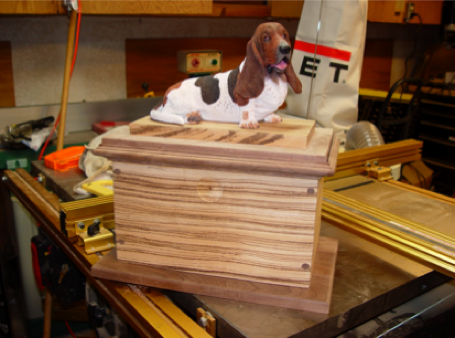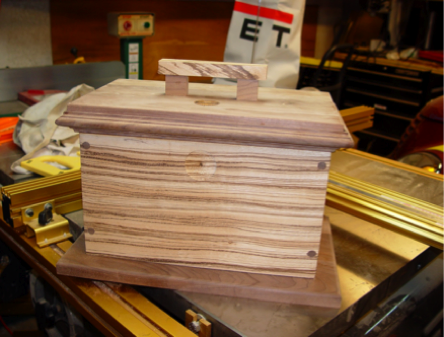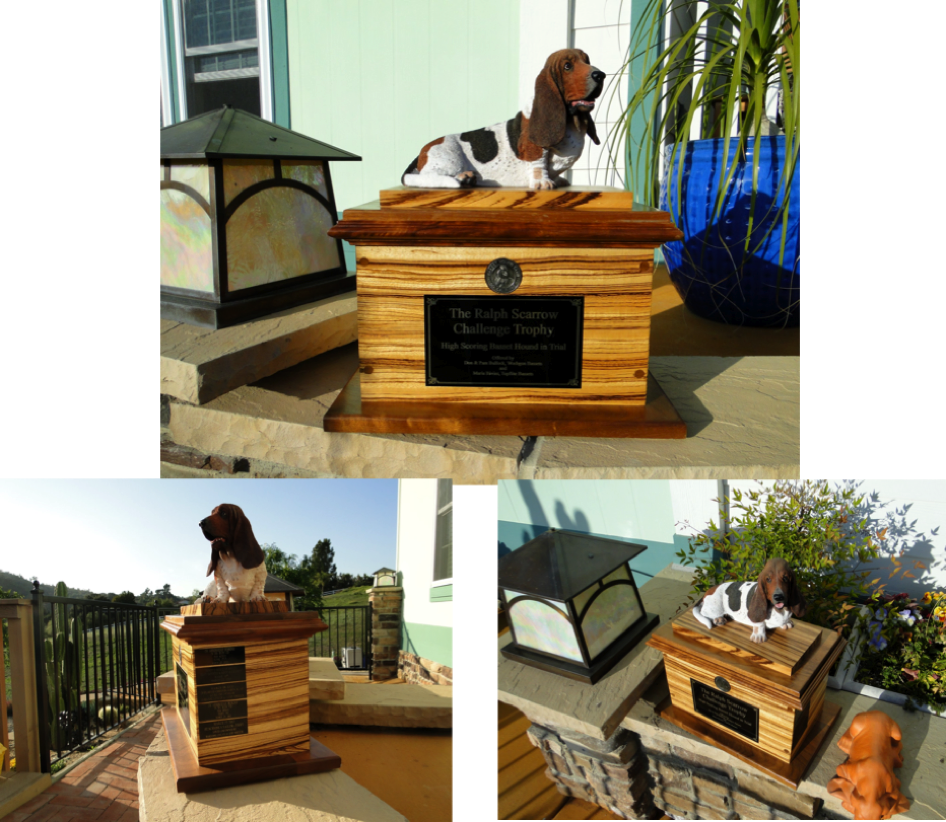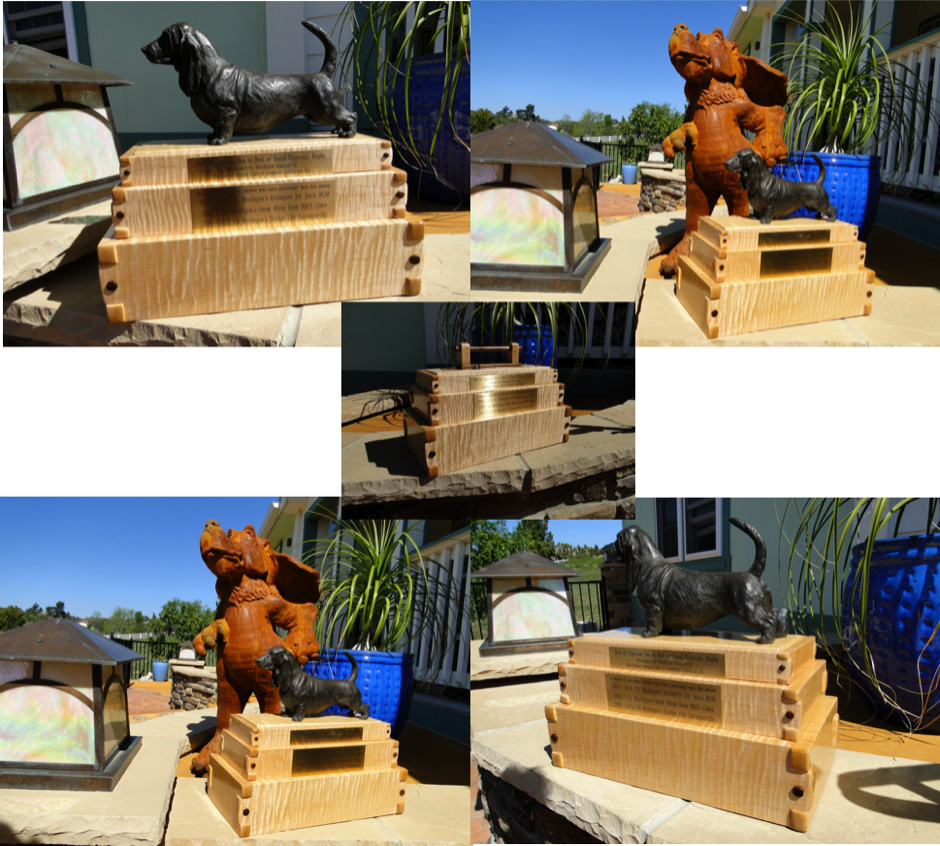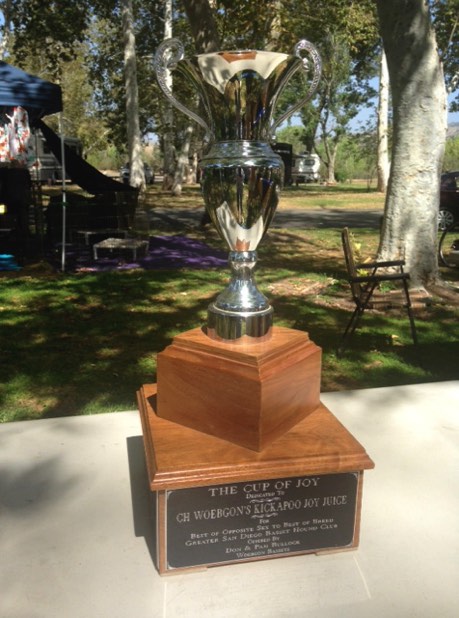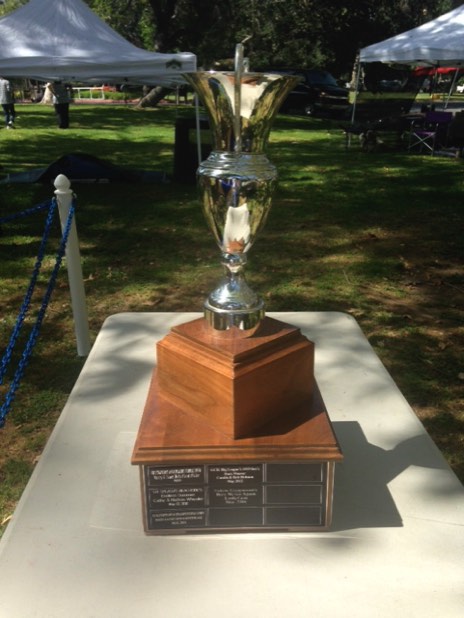 BHCSC Winners Dog
After our co-breeders retired the previous trophy in 2019 we offered to work with them to create a new trophy.
Mary had been part of the design of this trophy which was going to be a tribute to her mother. She, infact, had seen my progress and chose the finish to be used on the trophy the day before her she suffered a seizure from a brain tumor.
The trophy incorporates a silver bowl that Mary Lukins retired many years ago. In 2020 when we were scheduled to hold the first show where planned to offer the new trophy the bowl was 50 years old. The plaque for the trophy was redesigned based on one that Mary had designed prior to her death. Special thanks to our friend, Maria Bivens for allowing us to use the photo she took of Mary at a prior dog show.
Due to the COVID - 19 pandemic which caused the 2020 BHCSC show to be cancelled the trophy was first awarded at the club's 2021 show.
After the tragic death of our co-breeder and friend, Mary Lukins, this trophy that she had commissioned became a tribute to her. Special thanks to Mary's husband, Ron, for authorizing the change. The trophy was featured in a video that I did showing how it was made plus a little about Mary. May I suggest watching the video to get the whole story of the trophy and the story behind it.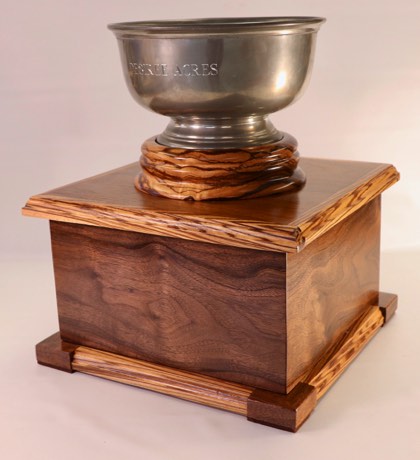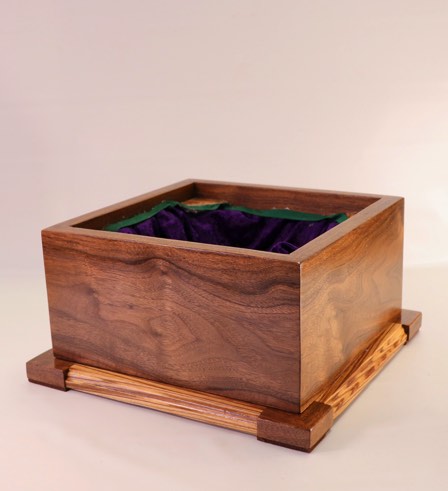 Trophy Inside
with
Bowl Removed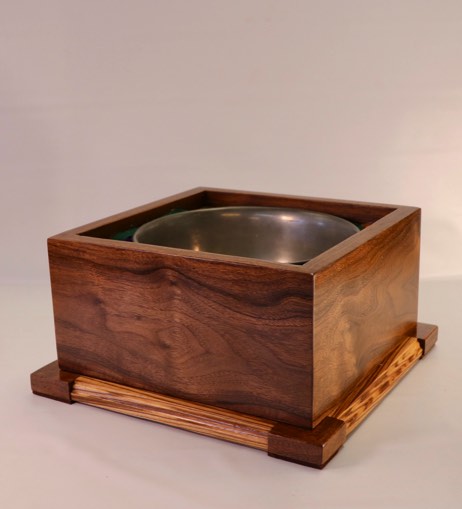 Trophy
the Way
It is Stored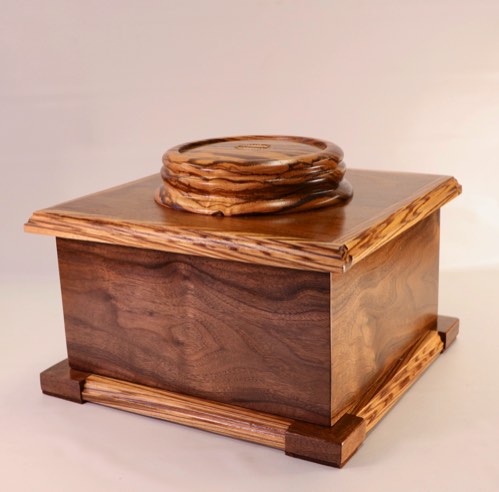 Trophy with Bowl in Place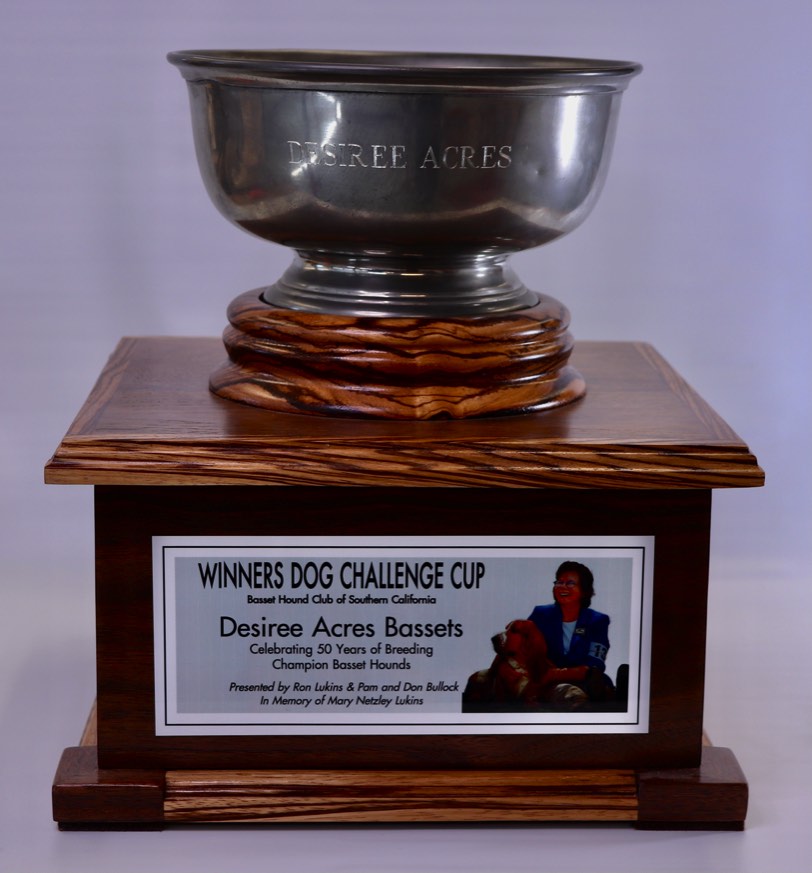 The Trophy as Presented
at the 2021
BHCSC Specialty Show